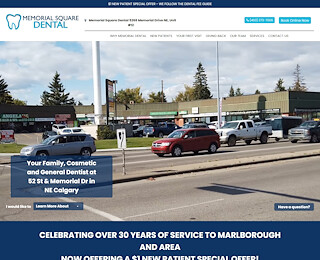 If you've been looking for a NE Calgary dental clinic that offers Children's Dentistry, consider Memorial Square Dental. Memorial Dental believes that Children's Dentistry is of primary importance, and wants to ensure that your children develop and maintain a consistent oral hygiene routine that will continue into adulthood.
NE Calgary parents love the Children's Dentistry program at Memorial Square Dental. Their facility includes parents in their program in order to take care of your children's dental and oral health, instructing you on how to teach your child to brush and floss in a way that is fun and enjoyable.
Memorial Dental in NE Calgary offers Children's Dentistry to the youngest members of your family. Often parents don't give any thought to their baby's teeth or how to care for them, however infants require daily oral hygiene because the tissues in the mouth require cleansing to prevent irritation and infection. A common but treatable fungal infection known as Thrush is caused by yeast that often appears in areas of the mouth that may have torn tissue, due to constant sucking on a pacifier, bottle, or even breastfeeding. The tiny tears remain moist, and if not removed, the yeast can cause this painful condition.
Can you start brushing too early? The fact is that it is never too early to begin a regular brushing routine with your child. Babies can begin teething at three months old. However, it is more common to begin teething around 6 to 7 months old. The first teeth that appear are usually lower incisors or front teeth. By the age of 3, children should have their complete set of 20 teeth.
As your child grows, their oral hygiene routine can become a bit more structured. Memorial Dental in NE Calgary wants to be there at every stage, with comprehensive Children's Dentistry to keep their teeth healthy. As the teeth grow, use a toothbrush that is designed for your child's age, as indicated on the package. You may decide to use a tooth-cleansing paste, such as Baby Orajel Tooth and Gum Cleanser that is designed for young children and is safe if swallowed. Follow the manufacturer's recommended use.
Memorial Square Dental in SE Calgary continues to provide Children's Dentistry all throughout your child's youth. Once your child begins brushing on their own, it is important that you keep an eye out for any signs of gingivitis. If you can visibly see plaque, encourage the proper brushing and flossing technique for the recommended two minutes. Discuss any concerns you have with us at your next cleaning and check-up appointment. Memorial Dental's hygienist will go over brushing and flossing with your child if there are any areas of concern, and they will offer tips and suggestions for your child to keep in mind when brushing at home.
By following these guidelines, your child will grow up with healthy teeth and gums! To book an appointment for a new patient at Memorial Dental in NE Calgary, call the office at (403) 273-7666 and ask about their Children's Dentistry program. Seeing to the oral health of your child is a wonderful investment!