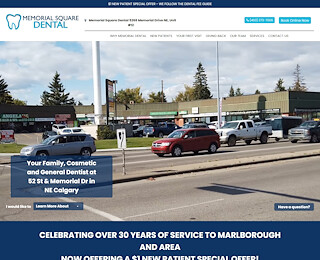 Memorial Square Dental in Calgary has an emergency dentist on call after hours if you need treatment. If you're in pain, it's comforting to know that an urgent care dentist is just one phone call away, when you call the office at 403-273-7666.
It can be confusing to know exactly what a dental emergency is. Some situations call for urgent care and others can wait for the dental office to open. Dentists often offer this bit of advice to patients: If it hurts, it's an emergency, and should be seen immediately by a dentist. Memorial Dental in Calgary will take your after hour calls if you need an emergency dentist to treat you.
Don't let payment stand in your way of seeking emergency dental care. If you don't have dental insurance or are worried about the cost of dental services in an emergency situation, Memorial Square Dental can offer outside dental financing that can be applied for either in-office or online. Financing approval can be done in a matter of minutes online.
You can prevent many dental emergencies by seeing a dentist on a regular basis for checkups, cleanings and maintenance to your teeth. During your dental exam, your dentist is naturally looking for any signs of weakened teeth, loosened or aging restorations and early signs of inflammation that would indicate the presence of infection. Seeing your dentist regularly in Calgary is the best way to prevent seeing an emergency dentist in the future.
One of the most common reasons why patients in Calgary seek an emergency dentist is for a knocked out tooth. A knocked out tooth is definitely a dental emergency and you should call us to arrange an emergency dental appointment (403.273.7666). Acting quickly and following the guidelines below will make it possible to save the tooth.
- Handle the knocked out tooth by the crown and avoid touching the root.
- Rinse the tooth, but be gentle and do not remove any tissue that is attached to the tooth.
- If possible, gently place the tooth back in the socket and bite down gently on it to hold it in place.
- If it's not possible to place the tooth back in the socket, the best option is to place the tooth in a cup of milk or a clean container if milk is not available.
- See a dentist as soon as possible!
A cracked or broken tooth is a dental emergency. You should call Memorial Dental in Calgary to speak to an emergency dentist and arrange an immediate appointment (403.273.7666). Here's what you can do immediately after the injury:
- Gently and thoroughly rinse with warm water to clean out the mouth.
- Typically a cracked or broken tooth results from an accident, applying a cold compress to facial injuries can help to minimize swelling.
- Take Acetaminophen as a pain killer, but avoid Aspirin or Ibuprofen as they have a blood thinning effect which can increase bleeding.
- Arrange an immediate visit to Memorial Square Dental Clinic.
If you live in the Calgary area and are experiencing a dental emergency, getting in for treatment with an emergency dentist from Memorial Square Dental is important in order to prevent the situation from getting any worse. Call Memorial Dental at 403-273-7666 for emergency or routine dental care, and rest assured that they are there for you, during regular business hours- and after.