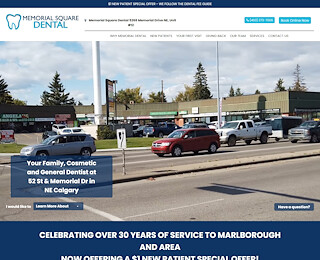 Have you been searching for a dental clinic that offers complete dentistry services in the Marlborough area? Memorial Square Dental offers family dentistry, children's dentistry, cosmetic and restorative dentistry, implants, crowns, root canal treatment, emergency care and sedation treatment for their patients. In fact, they're a full-service dental clinic.
If you're looking for a dentist that can care for every member of your family, Memorial Square may be right for you. Memorial Square Dentistry serves all of Marlborough, and is devoted to providing proactive care related to the oral health needs of everyone in your family. As part of this commitment, they will not only take care of diagnosis and treatment but also of referral to appropriate specialists as necessary. Memorial Dental firmly believes in giving each individual their personal and conscientious attention with the goal to create happy, healthy smiles!
If you have small children in your home, Memorial Dental is committed to Children's Dentistry to Marlborough patients, with a children's program that grows with them from infancy right through to their teen years and beyond, with comprehensive instruction in complete oral hygiene and dental care. No one cares for children's teeth like Memorial Dental does.
For patients who need cosmetic or restorative
dentistry in Marlborough
, Memorial Dental offers dental crowns, bridges, porcelain veneers, teeth whitening, laser dentistry and Invisalign treatment for straightening teeth. To achieve the beautiful results you expect, you can rest assured that Memorial Dental's team will pay close attention to ensure form and function, using materials such as ceramic and composite technology. These materials have advanced to the point where they can be the basis for beautiful and durable dental work, especially when using digital dental technology.
If you need root canal treatment, you can rest easy when you're at Memorial Dental. Dentistry has come a long way since those early days when root canal treatment was a painful process that left patients fearful of getting treatment. With advances in pain management in dentistry, your root canal in Marlborough will go smoothly and painlessly. If anything, a root canal treatment can require some endurance due to the length of the procedure, but it is typically no more painful than having a dental filling.
If you're in pain after hours, it's comforting to know that emergency dentistry in Marlborough is only a phone call away. At Memorial Square Dental, they want to make sure they are there for you if you require emergency assistance. Please note, their urgent dental clinic phone number to contact outside of regular clinic hours and call (403) 273-7666 to contact their office. The following are the most common reasons for patients to call Memorial Dental's emergency number:
- Knocked out tooth
- Chipped tooth
- Cracked or broken tooth
- Loosened tooth
- Bitten lip or tongue
- Infection or abscessed tooth or gums
- Toothache
- Loose restoration, such as a dental crown, filling or bridge
If you're in pain, don't hesitate to call after hours. Whether you need urgent dentistry in or around Marlborough, or just want to set up a new patient appointment, call Memorial Square Dental at (403) 273-7666, and let them take care of all of your dental needs.