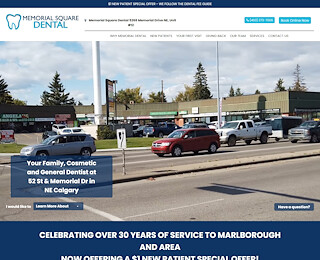 Who can you turn to when you need emergency dental care in Calgary? Memorial Square Dental is there for their patients after hours if urgent care is needed. If you're in pain, you probably need to be seen by a dentist right away while the problem can be taken care of in a timely manner.
For patients who don't have dental insurance or are worried about the cost of dental services in an emergency situation, Memorial Dental offers outside dental financing that can be applied for in-office or online. Financing approval can often be done online in a matter of minutes.
The most common reasons why patients seek an emergency dental services in Calgary include:
- Knocked out tooth: A knocked out tooth definitely requires emergency dental care in your Calgary dental office. Call Memorial Dental at 403-273-7666. Acting quickly and following the guidelines given to you will make it possible to save the tooth.
- Chipped tooth: If a tooth is chipped and doesn't hurt, you can relax a little as you are not in immediate danger and it is not a dental emergency. You should call Memorial Dental during regular clinic hours and book an appointment.
- Cracked or broken tooth: A cracked or broken tooth is a dental emergency and you should call the emergency dental clinic in Calgary at 403-273-7666.
- Loosened tooth: A loosened tooth is also a dental emergency and you should call the emergency dental clinic in Calgary right away. In the meantime, you can apply gentle pressure to the tooth, not forcing it but trying to keep it in its original position.
- Bitten lip or tongue: Clean the area gently with a cloth and apply a cold compress in order to reduce swelling. If the bleeding doesn't stop, go to a hospital emergency room immediately.
- Infection or abscessed tooth or gums: If you are experiencing sharp pain in a tooth when biting down, constant throbbing pain, and pain that interrupts or prevents sleep and severe pain to heat or cold may indicate an abscess or infection under the tooth. This requires emergency dental care in the Calgary clinic.
- Toothache: A toothache may or may not be considered a dental emergency, depending on its cause. If in doubt, please call the emergency dental clinic in Calgary at 403-273-7666.
- Loose restoration, such as a dental crown, filling or bridge: A loose restoration is not likely a dental emergency unless it is causing pain. Once again this is a situation that requires attention as soon as possible, though not necessarily at 2 a.m. on a Sunday morning! If the restoration is not causing pain, simply call Memorial Dental the next business day for an appointment.
Seeing your dentist regularly for dental exams could be the most important preventative action with regards to emergency dental care. During your dental exam, your Calgary NE dentists are naturally checking for signs of weakened teeth, loosened or aging restorations and early signs of inflammation that would indicate the presence of infection.
Memorial Square Dental wants you to know they are there for you whenever you need their services, offering emergency dental care in their Calgary office as well as a full range of dental services. Call Memorial Square Dental at 403-273-7666 for all your dental needs.